So I was on pinterest the other night looking at pumpkin bread recipes and every single one called for massive quantities of eggs. Now I can replace an egg or two, but I'm not big on changing up a recipe that calls for 5 eggs. Yes, that's right, I said 5! It made me wonder, if we can use pumpkin as an egg replacer then why in the world would pumpkin bread need so many eggs? IDK. Well that sent me off on a mission to find some "safe" pumpkin treats for our house, and I found a lot.
Here is a pumpkin french toast recipe that is almost perfect. I only need to switch the almond milk for rice or soy. Nuts are optional (as seen in the pic.) but I'm obviously skipping those. I found it at
piarecipes
.
From
ohsheglows
is some pumpkin butter. I've been slathering it all over my toast every morning for breakfast.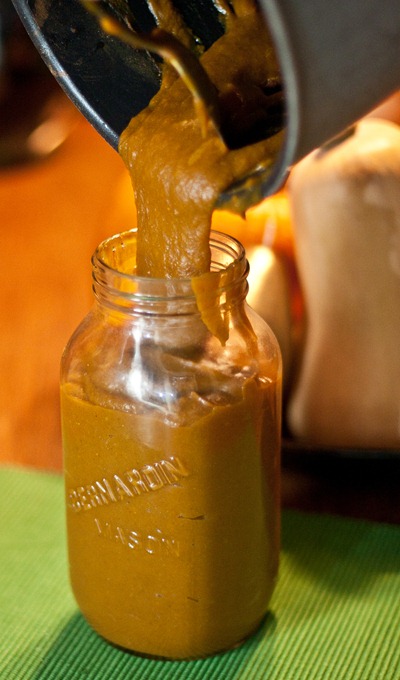 Bread pudding is for breakfast, right? Even if it has chocolate? Well, it is in our house.
Chef Chloe
has given us another great recipe. I love this sight so much, it is bookmarked. If you haven't been there before, check it out, do a little browsing, and I bet you'll find something else you like.
OK on to the really good stuff (aka dessert) After finding all the recipe's above, I finally stumbled upon a cake recipe that doesn't call for tons of eggs. Actually, it calls for ener-G egg replacer. I will have to make a couple changes though. The recipe calls for walnuts and cayenne, which I will be omitting. It even includes a butter cream frosting, but by now you all probably know that I'm frosting lazy and just buy the pillsbury cream cheese frosting. Oh yeah, I found this at
healthy happy life
Even though I found my cake recipe, I couldn't stop myself, I just kept finding more and more "safe" pumpkin options. Here are some pumpkin oatmeal cookies from
family fresh meals
. This recipe does need adapted. Here is what I will do to change it. I will use enjoy life chocolate chips, blue bonnet light for the butter, and 1Tbsp. flax + 3Tbsp water to replace the egg. Now, for the pumpkin pie spice I just added some nutmeg, cloves, and ginger, because I don't really know what's in it. Oh, and you'll notice this recipe also calls for white chocolate, which up until now, I have been unable to find. I was introduced to
premium chocolatiers
this week and noticed immediately that they have white chocolate. I sent them an email asking if they would consider selling white chips since there are none on the market. I got my response this morning saying they will be introducing a white chocolate bar next week called polar dream and hope to release chips some time in the future. I'm going to be first in line to buy those baby's up!
the baker chick
has these amazing looking frosted pumpkin spice cookies. They also need adapting. I'm using earth balance for the butter and egg replacer for the egg. I think a flax egg would put chunks in this smooth batter and of course I'm using bottled frosting.
I even found pumpkin custard. The recipe is already safe, but I'm going to try subbing arrowroot for the agar, since it's already in the house. I figure worst case scenario we'll be enjoying pudding instead.
I found this at
food fitness fresh air
I was the most excited about finding this one! It's a pumpkin spice latte, also from
healthy happy life
. Really, you can find so much there. Now I don't have a foaming tool so I'm topping it with a vegan pumpkin whipped cream I found at
family fresh cooking
. Once again, I'll just use cinnamon, ginger, nutmeg, and cloves for the pie spice.