Hey everyone. I realize I have a tendency to be disorganized and, as I have said before, I am quite the procrastinator. What I am going to try to do is post a recipe I have found online that is already "safe" for us on Tuesdays. Then over the weekend I will share my recipe for the week. Sound good?
This week I have been thinking of St. Patties Day. I looked at some corned beef at the store, but what are all those ingredients anyways? I stumbled upon Alton Brown's 10 day brine corned beef on food network and will be trying it next year since there's not enough time left now.
Here's the link.
Sorry no pic.
Since there will be no corned beef this year I am opting for
cabbage rolls
. I found a recipe from Nikki at Pennies on a Platter that I'm going to try. These look pretty good, minus the raisins, and I will use tofutti sour supreme for the sour cream.
There is so much green involved in the holiday that we have to have something as well. Katie over at chocolate covered Katie so kindly provided me with a shamrock shake. I have found so many great things on her page. You really should check it out if you haven't yet. I would also recommend you try it with the veggies included. You really can't taste them and it is so good for you.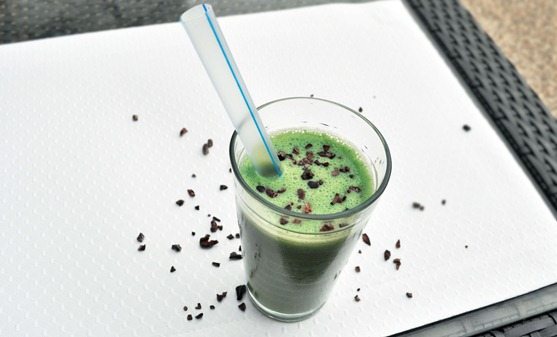 We've talked corned beef, cabbage, and shamrocks. What's left but rainbows, of course! I made a rainbow cake for my daughters birthday last year and it was a hit. I followed the directions from omnomicon to get the
rainbow effect.
We can't use omnomicon's recipe though, for lots of reasons. Below I will share the recipe I used. I'm not sure where my birthday pics are so I borrowed this one from their page.
Simple White Cake
This makes one 9" cake, so you will need to make two for the rainbow cake.
1 c. sugar
1/2 c. earth balance margarine
3 tsp. ener-g egg replacer + 4 Tbsp. warm water
2 tsp. vanilla extract
1 1/2 c. flour
1 1/2 tsp. baking powder
1/2 c. milk sub. (I used rice milk)
Preheat oven to 350*F and grease your 9 inch pan. Cream the butter and sugar, add in the egg replacer, milk substitute, and vanilla, stirring until combined. Incorporate the dry ingredients and mix until the batter is smooth. Now for the rainbow cake follow the omnomicon directions for batter prep. Once you have the batter in their pans, bake for about 30 minutes.
For the frosting we used pillsbury funfetti white frosting and I turned it purple.